「Human resources and training」 (data time: Sep. 30, 2023)
1、Statistics of employees
Statistics of employees

Project

Number of people

Enlisted personnel

335

Subtotal

Budget headcount

Staff

291

314

Appointment

7

Mechanic、Coworkers

16

Present staff

Male

154

284

Female

130

Present appointment

Male

1

6

Female

5
2、Statistics of current employees based on Age
Statistics of current employees based on Age

| Age | Number of people | Percentage |
| --- | --- | --- |
| Under 29 years old | 8 | 2.8% |
| 30-39years old | 46 | 15.9% |
| 40-49 years old | 78 | 26.9% |
| 50-59 years old | 135 | 46.5% |
| 60-65 years old | 23 | 7.9% |
| total | 290 | 100% |
※The average age of our staff is about 48.5 years old.
3、Present staff education statistics
Present staff education statistics

| Degree | Number of people | Percentage |
| --- | --- | --- |
| Ph.D | 5 | 1.7% |
| Master | 153 | 52.8% |
| Bachelor | 125 | 43.1% |
| Associate Degree | 7 | 2.4% |
| Total | 290 | 100% |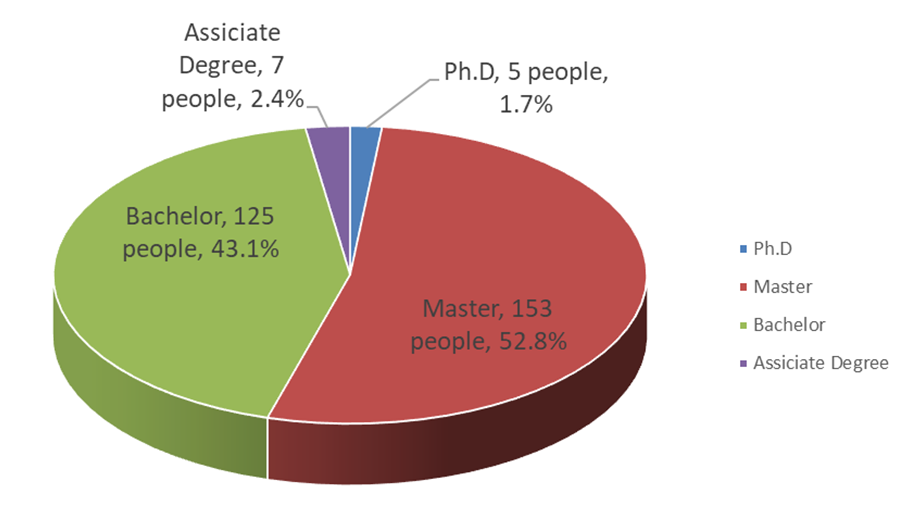 4. Training
In order to promote examiners' professional inspecting ability, the FEB not only holds professional training periodically ,but also sends them to participate in the external training courses.
(1) Monthly professional training:The FEB holds internal training courses once a month,and offers four professional classes with banking industries, securities industries,insurance industries and cyber security respectively.These training courses include inspection notices,laws & regulations,and case studies. Conduct 3 special classes for common audit items in the year, and conduct separate full-day courses with audit items such as "credit extension class", "wealth management class", "money laundering prevention class", "investment class" and "information security class".
(2)Orientation training:New recruits are requested to complete the audit and financial professional courses within one year.
(3)Computer audit and information education training:The examiners will be trained with internal training and external training. The course content includes IT utilization,cyber security and related operating systems.
(4) Irregular training:According to the needs of the business, the FEB holds training courses timely or sends examiners to participate in the external training courses.
Visitor: 3470   Update: 2023-10-06